This article covers:
What is Inclusive Pedagogy
Teaching Tools
Supportive Resources
What is Inclusive Pedagogy?
Inclusive Pedagogy is a student-centered approach to teaching that engages the wealth of intersecting social identities and positionalities that all students bring to the classroom. It must not be an afterthought, rather, it should permeate every aspect of curriculum and course design, classroom management, and assessment of teaching and learning (Iturbe-LaGrave, 2018).
Through Inclusive Pedagogy, faculty can reimagine their teaching and dismantle oppressive practices that have hindered the academic success of historically underrepresented students in American Higher Education. It is an approach to teaching that requires us to recognize, assess, and respond to microaggressions; to co-construct knowledge, community agreements, and curricula through which every student's experiences in the world are validated and seen (Iturbe-LaGrave, 2018).
While this module is not an exhaustive nor comprehensive overview, it provides tools to begin pivoting toward this holistic and transformative way of teaching and learning. 
Definitions

"[Inclusive] pedagogy requires that educators embrace their students as whole human beings consisting of mind, body, and soul and create interactive and dynamic classroom environments that inspire deep and meaningful transformational learning" (Tuitt et al., 2016, p. 218). 

"Inclusive learning and teaching in higher education refers to the ways in which pedagogy, curricula, and assessment are designed to engage students in learning that is meaningful, relevant, and accessible to all. It embraces a view of the individual and individual difference as the source of diversity that can enrich the lives and learning of others" (Hockings, 2010, p.1)

Frameworks

Inclusive frameworks include but are not limited to:

Inclusive Pedagogy (Tuitt, et. al., 2016)
Trauma-Informed Pedagogy (Harris, et. al, 2001)
Culturally Relevant Pedagogy (Ladson-Billings, 1995)
Culturally Sustaining Pedagogies (Paris et. al., 2017)
Funds of Knowledge (Moll, L., Amanti, C., Neff, D., & Gonzalez, N., 1992)
Humanizing Pedagogy (Del Carmen Salazar, 2013)
Intersectional Pedagogy (Case, 2016)
Universal Design for Learning (CAST) 
 
Benefits of Inclusive Pedagogy
Through Inclusive Pedagogy, faculty members can:
Engage diversity to create dynamic, engaging, and relevant individual and group learning experiences.
Establish an environment that challenges each student to achieve academically at high levels, and furthers their path to academic success (adapted from Salazar et al., 2009)
Constructively handle difficult moments in the classroom when controversial material is discussed, and classroom discussions become heated (adapted from Salazar et al., 2009)
Co-create and foster a collegial environment in which students feel comfortable sharing their ideas, thoughts, and questions (adapted from Salazar et al., 2009)
Support the success of all students regardless of background and ability (Salazar et al., 2009)
 
"Even though some of us might wish to conceptualize our classrooms as culturally neutral or might choose to ignore the cultural dimensions, students cannot check their sociocultural identities at the door, nor can they instantly transcend their current level of development [...] Therefore, it is important that the pedagogical strategies we employ in the classroom reflect an understanding of social identity development so that we can anticipate the tensions that might occur in the classroom and be proactive about them." (Ambrose et. al., 2010, pp. 169-170).
References

Ambrose, S. A., Bridges, M. W., DiPietro, M., Lovett, M. C., & Norman, M. K. (2010). How learning works: Seven research-based principles for smart teaching. John Wiley & Sons. Benokraitis, N. V. (1997). Subtle sexism: Current practice and prospects for change. Sage Publications, Inc.

Brown, S. C. (2010). Students as cultural beings. In M. Fallon & S.C. Brown (Eds.), Teaching inclusively in higher education. (pp. 17-37). Information Age Publishing Co.

Cadinu, M., Maass, A., Rosabianca, A., & Kiesner, J. (2005). Why do women underperform under stereotype threat? Evidence for the role of negative thinking. Psychological Science, 16(7), 572-578.

Cohn, E. & Gareis, J. (2007). Faculty members as architects: Structuring diversity-accessible courses. In J. Branche, J.W. Mullennix, E.R. Cohn (Eds.), Diversity across the curriculum. (pp. 18-22). Anker Publishing.

Dovidio, J. F. (2001). On the nature of contemporary prejudice: The third wave. Journal of Social Issues, 57(4), 829-849.

Ginsberg, M.B. & Whodkowski, R.J. (2009). Diversity and Motivation: Culturally responsive teaching in college, (2nd ed.). San Francisco, CA: Jossey-Bass. Chapter 1.

Greenberg, J., & Perry, A. (2005) Creating inclusive classrooms: A view through the student lens. In M.L. Ouellet (Ed.) Teaching Inclusively: Resources for course, department and institutional change in higher education. (pp. 551-565). New Forums Press

Hall, S. (1982). The classroom climate: A chilly one for women? Washington D.C.: Association of American Colleges.

Milem, J., Chang, M., & Antonio, A. (2005). Making diversity work: A researched-based perspective. AAC&U.

Pierce, C.M. (1995). Stress analogs of racism and sexism: Terrorism, torture, and disaster. P.P.R. In C.V. Williw, B.M. Kramer, & B.S. Brown (Eds.) (Ed.) Mental Health, racism, and sexism (pp. 277.293).

Rowe, M.P. (1990). Barriers to equality: The power of subtle discrimination to maintain unequal opportunity. Employee Responsibilities and Rights Journal, 3(2), 153-163.

Salazar, M., Norton, A., & Tuitt, F. (2009). Weaving promising practices for inclusive excellence into the higher education classroom. In L.B. Nilson and J.E. Miller (Eds.) To improve the academy. (pp. 208-226).

Salvatore, J., & Shelton, J. N. (2007). Cognitive costs of exposure to racial prejudice. Psychological Science, 18(9), 810-815.

Solórzano, D., Ceja, M., & Yosso, T. (2000). Critical race theory, racial microaggressions, and campus racial climate: The experiences of African American college students. The Journal of Negro Education, 69(1/2), 60-73.

Sue, D.W. (2010). Microaggressions in Everyday Life: Race, Gender, and Sexual Orientation. NJ: John Wiley & Sons. 

Suinn, R. (2010). Teaching culturally diverse students. In W.J. McKeachie's teaching tips. (pp. 151-170). Houghton Mifflin Company.

Wing Sue, D., Lin, A.I., Torino, G.C., Capodilupo, C.M., & Rivera, D.P. (2009). Racial microaggressions and difficult dialogues on race in the classroom. Cultural Diversity and Ethnic Minority Psychology, 15 (20), 183-190.
Questions to Ask Yourself
How, if at all, have you integrated diversity into your course?
 

Have you considered content, readings, lectures, discussion topics, perspectives, examples, case studies, problems, and stories? Is the content balanced in its portrayal of diverse groups?

Are there multiple ways to access course materials and engage in learning that accounts for the range of ways of learning that may be present in your class?
 

Have you assembled a range of instructional activities and assignments that offer multiple opportunities for assessing student progress?
 

Is your course designed in a manner that facilitates the development of an inclusive learning community? Will you establish ground‐rules and solicit feedback related to how students are experiencing the learning environment?

Does your syllabus signal to students that diverse perspectives are welcomed; that accommodations can be made; and that acts of intolerance and disrespect will not be permitted? Do you have a diversity and disability statement on your course syllabus?

Have you anticipated and prepared for how students may respond to potentially charged topics or situations that may emerge in your class?
 

Have you created opportunities to get know your students on a personal and individual basis?
 

Finally, have you created a vision for promoting inclusive excellence in your classroom? Do you have a sense of what teaching inclusively would feel like and look like?
 
Adapted from Salazar et al., 2009.
Syllabus Statements
Inclusive syllabus statements show students that you respect and value the multiplicity of identities, beliefs, cultural backgrounds, and skills in your classroom. Syllabus statements should be actively shared with students, and not just be printed on paper. Think of activities and ways to engage students in deepening their understanding of these statements, and share why it is important for you to incorporate them into your course. These statements also signal that you are aware of contemporary issues and conversations around diversity. Below are suggested statements from the Office of Teaching and Learning.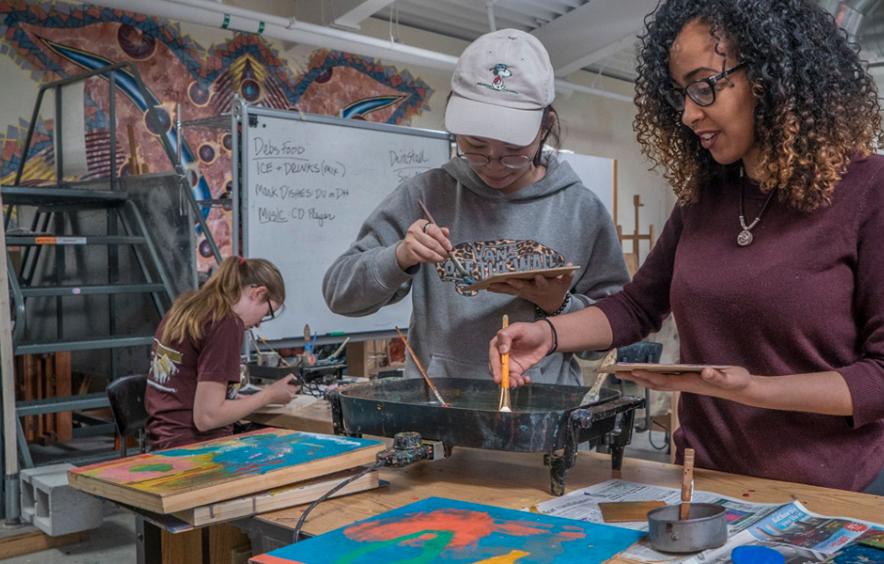 Ground Rules
Establishing ground rules sets the tone of a class, provides clear guidelines on how to behave and interact with one another, decreases instances of incivility, and enables students to feel safe expressing their ideas or views.  Below are some techniques to establish and implement ground rules in your course as well as sample classroom norms you can adapt. 
Norms of Collaborative Work
Below are the Seven Norms of Collaborative Work which serve as a starting point for developing guidelines for collaborative group work in and out of the classroom. Note that these have been adapted from William Baker, Group Dynamics Associates, by faculty members in the Educational Leadership and Policy Studies Program in the Morgridge College of Education at DU.
Paraphrasing

Using a paraphrase starter that is comfortable for you: "So…" or "As you are..." or "You're thinking…" and following the statement with a paraphrase assists members of the group to hear and understand each other as they formulate decisions.

Pausing

Pausing before responding or asking a question allows time for thinking and enhances dialogue, discussion, and decision-making.

Probing

Using gentle open-ended probes or inquiries such as, "Please say more…" or "Can you tell me more about…" or "Then, are you saying…?" increases clarity and precision of the group's thinking.

Putting ideas on the table:

Ideas are the heart of meaningful dialogue.  Label the intention of your comments.  For example, you might say, "Here is one idea…" or "One thought I have is…" or "Here is a possible approach"… or "I'm just thinking out loud…"

Paying attention to self and others

Meaningful dialogue is facilitated when each group member is conscious of self and others and is aware of not only what he/she is saying, but also how it is said and how others are responding.  This includes paying attention to learning style when planning for, facilitating and participating in group meetings.  Responding to others in their language forms is one manifestation of this norm.

Presuming positive intentions

Assuming that other's intentions are positive promotes and facilitates meaningful dialogue and eliminates unintentional put-downs. Using positive intentions in your speech is one manifestation of this norm.

Pursuing a balance between advocacy and inquiry

Pursuing and maintaining a balance between advocating for a position and inquiring about one's own and others' positions assists the group to become a learning organization.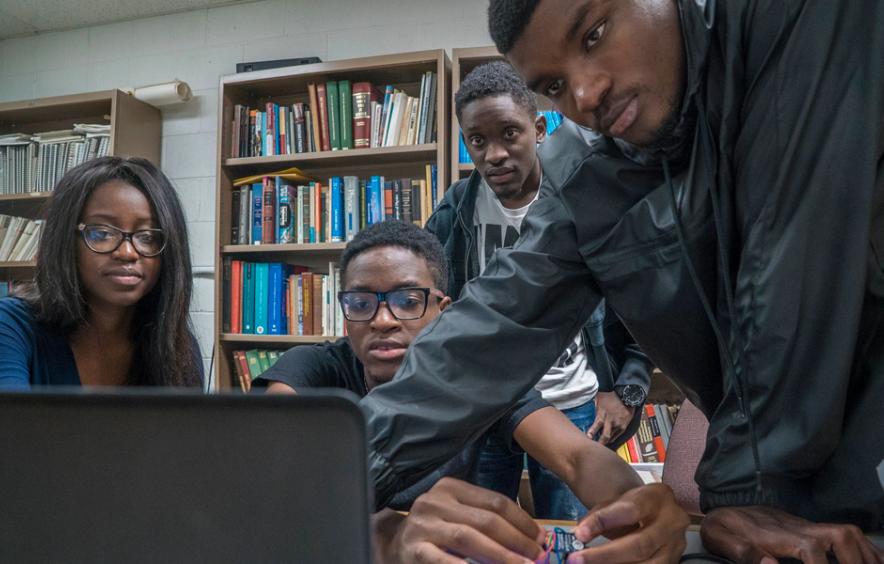 Assessment of Classroom Climate
Ungraded or formative assessment is a process designed to give ongoing feedback over the course of an intervention (Allen, 2004). This type of assessment enables faculty members to reflect upon their teaching practices as the class is in progress. Subsequently, professors can shift how they teach and organize learning for students in situ rather than waiting to create changes the next time a specific course is offered. Below are some ideas on how to assess the learning environment. 
In-classroom Assessment
Prompt students to anonymously answer the questions below. Collect student responses, look for themes, and address your findings in the next class session. Explain to students what changes you will make if any.
I feel comfortable participating in this course: a) always b) sometimes c) rarely d) never
One or two things that would make me feel more comfortable in this course would be: 
What question(s) remain in your mind?
What are some things you don't understand well enough to ask about?
Electronic Assessment
Prepare an anonymous survey using DU's free survey software, QualtricsLinks to an external site., to inquire about students' perception of your teaching. Create questions based on specific teaching practices you employ and that you can change and modify. Communicate to students what the survey is for and how you will use the results to better accommodate their learning needs. 
References

Allen, M.J. (2004). Assessing Academic Programs in Higher Education. Anker Publishing Company, Inc.

Brookfield, S.D. & Preskill, S. (2005). Discussion as a Way of Teaching: Tools and Techniques for Democratic Classrooms (2nd ed.) Jossey Bass.

Caldwell, M., Frame, O. (2017). Let's Get Real: Exploring Race, Class, and Gender Identities in the Classroom. Routledge. 

Goldrick-Rab, Sara. (2016). Paying the Price: College Costs, Financial Aid, and the Betrayal of the American Dream. The University of Chicago Press. 

Tuitt, F. (2014) Race and Higher Education: Rethinking Pedagogy in Diverse College Classrooms. Cornell University Faculty Diversity Institute Keynote Presentation. 

Case, K. (2016) Toward an Intersectional Pedagogy Model: Engaged Learning for Social Justice. In Intersectional Pedagogy (pp. 1-24). Routledge.

Del Carmen Salazar, M. (2013). A humanizing pedagogy: Reinventing the principles and practices of education as journey toward liberation. Review of Research in Education, 37(1), 121-148.

Harris, M., & Fallot, R. D. (Eds.). (2001). Using trauma theory to design service systems: New directions for mental health services. San Francisco, CA: Jossey-Bass.

Hockings, C. (2010). Inclusive learning and teaching in higher education: A synthesis of research. York: Higher Education Academy.

Iturbe-LaGrave, V. (2018). "Formative Assessment and Critical Self- Reflection in the Inclusive Teaching Practices Faculty Video Consultation Protocol." Dreams, Possibilities, and Necessity of Equity: Exploring the Transformative Potential of Assessment. American Educational Research Association (AERA), New York, NY, April 16.

Kohli, R. & Solórzano, D.G. (2012). Teachers, please learn our names!: Racial microaggressions and the K-12 classroom. Race Ethnicity and Education, 15(4), 441-462.

Ladson-Billings, G. (1992). Culturally relevant teaching: The key to making multicultural education work. In C. A. Grant (Ed.), Research and multicultural education (pp. 106- 121). London, UK: Falmer Press. 

Ladson-Billings, G (1994) The Dream keepers: Successful teaching for African-American students. San Francisco: Jossey-Bass. 

Ladson-Billings, G. (1995). But that's just good teaching! The case for culturally relevant pedagogy. Theory into Practice, 34(3) 159-165. 

Moll, L., Amanti, C., Neff, D., & Gonzalez, N. (1992). Funds of knowledge for teaching: Using a qualitative approach to connect homes and classrooms. Theory into Practice, 31(2), 132-141. 

Paris, D., Alim, S. (2017). Culturally Sustaining Pedagogies: Teaching and Learning for Justice in a Changing World. New York, NY: Teacher's College Press.

Tuitt, F., Haynes, C., & Stewart, S. (Eds.) (2016). Race, Equity, and the Learning Environment: The Global Relevance of Critical and Inclusive Pedagogies in Higher Education. Stylus Publishing, LLC.